Beschrijving
Mutant Mass is het nieuwe kanon van Mutant.
Mutant Mass eigenschappen:
Mutant Mass is wellicht de meest geavanceerde Gainer! Door de aanwezigheid van hoogwaardige eiwitten ondersteunt Mutant Mass de spieropbouw, spierkracht en spiermassa!
Mutant Mass bevat maar liefst 1060 calorieën per dosering.
Een mix van maar liefst 10 verschillende eiwitten, verschillende koolhydraten en nog veel meer ingrediënten, maken Mutant Mass jouw favoriete product!
Nutrition profile
Overall, the new Mutant Mass is still a heavy mass protein supplement, built to help users get in over 1,000 calories from a shake. Macro-wise the product is much the same, with a nutrition profile of 56g of protein, 12g of fat (half saturated), 192g of carbohydrates with 18g of that sugar and 6g fiber, for a total of 1,100 calories.
Mutant Mass fans will know those number are just a pinch different from the previous version, packing 4g more protein, 10g more carbs, slightly less fat, and 40 more calories. The nutrition department is of course not the only place things have changed for Mutant Mass, as the gainer does also have a new blend of ingredients providing those macros.
New ingredients
Taking care of the carbohydrates in the new Mutant Mass is a massive blend of waxy maize, maltodextrin, barley starch, sweet potato, and rolled oats. You then have the protein coming from a blend of six sources, a lot less than the previous Mutant Mass which had ten including various types of whey, micellar casein, and milk protein.
Mutant has thrown in a lean fat blend into Mutant Mass as well, backing up its 18g of fat per serving with sources like coconut oil for MCTs, avocado, flaxseed, and sunflower oil.
Old vs new
One of the big things the new Mutant Mass appears to be promoting is that it has less sugar, as you can see in the numbers listed above. Of its predecessor's 182g of carbohydrates per serving, 38g of that was sugar. The updated gainer, however, packs 10g more carbs but only 18g of that is sugar, meaning it has less than half the amount of sugar.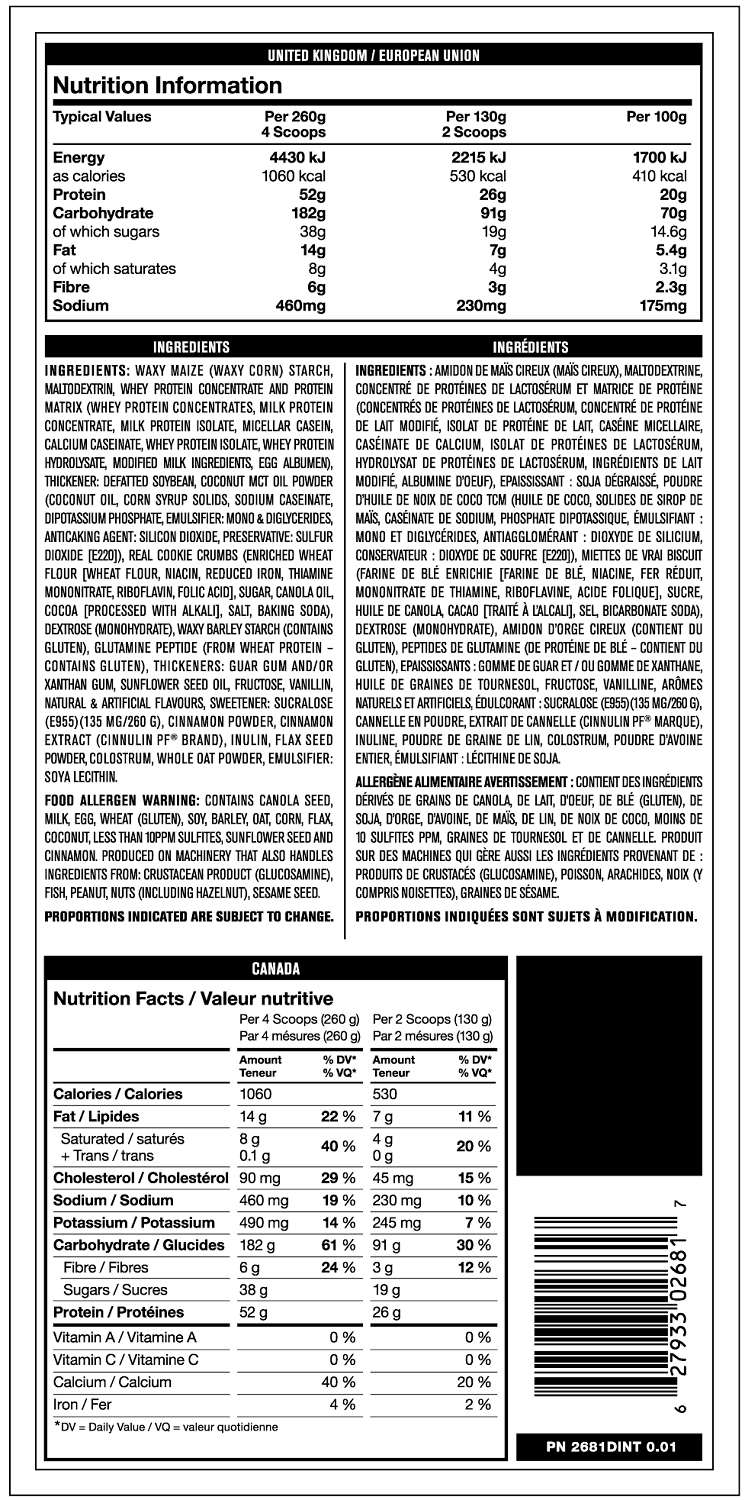 SUGGESTED DIRECTIONS FOR USE: Shake or mix 4 scoops (260 g) of MUTANT MASS with 454-908 mL (16-32 fl. oz.) of water; tastes incredibly addictive in water — tastes even more fantastic in milk! You can enjoy 2 or even 3 shakes a day. Our favourite program is on training days to enjoy one shake first thing in the morning and a second immediately after training. For non-training days, simply enjoy your shakes whenever you feel the need to add MUTANT MASS!
MUTANT MASS 2900 CALORIE PROGRAM: Shake or mix 4 scoops of MUTANT MASS with 908 mL (32 fl. oz.) of low fat 1% milk, twice a day; delivers 170 g of protein and 2,940 calories per day!